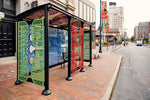 Ebenezer Akakpo is an artist originally from Ghana but based in the United States. His passion for jewelry-making led him to Le Arti Orafe in Florence, Italy, where he studied stone-setting and jewelry design.
In Italy, he discovered computer-aided design and manufacturing and loved the fact that it could be a gamechanger in the jewelry-making industry. When he moved to the U.S., Akakpo studied Metalsmithing and Jewelry at the Maine College of Art & Design, Portland, Maine, and later studied Industrial design at Rochester Institute of Technology, in Rochester, NY.
He established Akakpo Design Group LLC in Maine in 2017 after university. The firm designs jewelry, apparel, and home accessories. He also founded Maine Culture Apparel and serves as Creative Director at both businesses.
Akakpo recently designed a bus stop shelter in Portland which won a national competition as the best bus stop in the U.S. His design, which is on Congress Street, went up against six bus stops in other cities before winning a head-to-head with a contender in Boston. His run against Baltimore; Norwalk, Connecticut; and Juneau, Alaska, was fueled by a grassroots voting campaign.
"For a very long time I've been thinking of doing public art," Akakpo told WMTW News. "There was this voice that said you've always wanted to follow the steps of your dad who was an architect, this is your chance," he said.
Akakpo's design for the bus stop was inspired by symbols from Ghana which symbolize hope and friendship. He created the symbols using vivid colors. "I see the symbols as a piece of my culture that's been represented here and has been accepted wholeheartedly," Akakpo said.
Akakpo started designing the bus stop in 2020 when the nonprofit Creative Portland used a National Endowment for the Arts grant to commission Akakpo and three other local artists to decorate bus shelters.
According to Akakpo, he wanted to design something to provide hope and comfort owing to the composition of Portland, which is a mixture of immigrants and locals.
"We are a mixture of immigrants and people from here, original Mainers," Akakpo said. "So the two symbols that jumped at me, which were friendship and hope, were the two appropriate symbols I feel we needed in the community."
According to gajreport, the art design was funded with $4,500 from a creative bus shelter initiative sponsored by Creative Portland. 
Source : Face2Face Africa