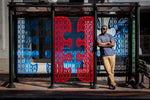 He left the shores of Ghana with the intent of marketing Ghana's artistic traditional treasures.
Today, Ebenezer Akakpo's dreams are coming to fruition as his spectacular redesigning of a bus shelter with Ghana's Adinkra symbols gain approval in the USA. 
The panels of the bus shelter are stamped with outlines of traditional Ghanaian Adinkra symbols for hope and friendship.
Ghanaian artist Ebenezer Akakpo presents a unique collection of ideas and creations with the visual Language symbols or Adinkra symbols from Ghana. 
Speaking to Charles Ayitey on the Market Place, Ebenezer Akakpo hinted to leverage on government's "Destination Ghana" project to transfer his artistry to Ghana's bus shelters.
"My initiate has received so much acclaim in the USA and around the world and I hope to replicate this art, of using traditional Ghanaian symbols to redesign bus stations, in Ghana," he stated. 
Meanwhile, Mr. Akakpo has entreated Ghanaian artists to be accountable to their clients.
He stated that poor standards in the country's arts and craft industry continue to have a negative impact on international consumers. 
"Accountability is everything in this industry. Unfortunately, we don't see much about that in Ghana. Artists and government agencies must ensure that works of art meet international standards – this is how we gain global demand for our works," he stated.
Ebenezer moved to the US and studied Metalsmithing and Jewelry at the Maine College of Art & Design , Portland, Maine, and Industrial design at Rochester Institute of Technology, in Rochester, NY. 
In 2017 he founded the Akakpo Design Group LLC in Maine, focusing on designing jewelry, apparel, and home accessories.  He also founded Maine Culture Apparel and serves as Creative Director at both businesses. 

Source : JoyOnline