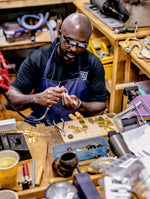 Designer Ebenezer Akakpo's creations speak to both his native Ghana and his adopted Maine.
In a massive brick mill building seven miles west of Portland, Maine, in the town of Westbrook, I stumble into a world of symbols, the domain of a man who dreams and designs in ancient patterns. Ebenezer Akakpo's jewelry—wide cuffs, slender bangles, dangling earrings—is adorned with tiny characters called adinkra, strong graphic symbols that appear on fabric, pottery, and artwork throughout his native Ghana.
They embody some of the most powerful ideas in any language: hope, unity, bravery, and friendship, among others. 
These traditional Ghanaian characters also dance across his stainless-steel goblets and tumblers, felted trivets, and coasters. And, after 24 years in Maine, Akakpo has even begun to play with the Maine figures familiar to us all—lobsters, moose, lighthouses, chickadees—uniting them in fresh combinations to adorn tote bags, travel mugs, and pint glasses. 
"Which symbol speaks to you?" I ask, as we stand in the midst of his sprawling studio, four large rooms spilling over with proof of an almost hyperactive creativity, with a range of equipment that is dizzying.
In the jewelry corner, a simple vise waits to clamp onto something; pliers hang at the ready. He shows me a molded form he dreamed up to make it easier to add a curve to the earrings he crafts of bronze and 22-karat gold plate. 
Which symbol indeed? It is a good question, a deep question, a question Akakpo answers quickly.
Endurance. The symbol resembles two hearts, mirror images reversed from each other, joined in the center.
"It takes a lot of endurance and willpower to be doing what I'm doing," he says, with a deep laugh. "And a lot of patience." 
He speaks to a life that folds a full day at the Maine Turnpike Authority, where he works as an IT specialist, into his artistic work in his studio until 2 or 3 in the morning. 
His story pours into each earring, each laser-printed water bottle—a lifetime of skills and experiences condensed in all that he makes, starting from his childhood in Ghana, growing up on the campus of a technical training center that taught everything from carpentry to refrigeration. "That gave me my initial interest in making things," he says. 
In Florence, Italy, he learned stone setting and design at the jewelry school Le Arti Orafe while also drawing inspiration from the jewelry shops around the Ponte Vecchio. "Each artisan could interpret a simple heart shape differently," he recalls. "That was the first time I saw or experienced innovation in terms of design. And I was like, wow, we have all these symbols in my native country. If I can make these symbols my own, how cool would they be?!" 
Each step brought him closer. From Italy to the Maine College of Art & Design, where he studied metal­smithing and jewelry, then mastering industrial design at the Rochester Institute of Technology. Along the way he learned how to take apart computers and put them back together. Simplified his designs. Streamlined production. "But at the same time, the other thing I learned from jewelry making is not to lose the integrity of what you're trying to create."
He presses a dangling earring in the vise, making a gentle curve, then holds it up to the light. The cutout pattern is Abundance—it looks like a sprinkling of flowers, and it gives off a shimmer. To some people, it's a beautiful piece of jewelry. To others, the symbol might connect to the story of their life, not unlike a tattoo. There's meaning beneath it.
"Once in a while, when people react in a very unique way to my product, I get curious," he says. And then he tells me about a woman who visited his booth during a craft show. She didn't wear jewelry, she told him, but then he brought out a goblet covered with the symbol for Hope. "She just grabbed it from me," he remembers, "and when I asked her why, she told me she'd lost her husband a month ago. Then I told her the symbol for Hope means that God is in the heavens, listening to our prayers. And she started crying." 
He looks right at me. "It's little things like that. You know, it makes me feel like, well, I think I am in control of what I'm doing.…" He pauses, then gives another great laugh. "But I don't think I really am. I'm just being a channel, and trying to do the work." akakpo.com 
Source: NewEngland