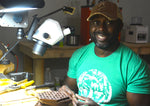 In his work, Ebenezer Akakpo strives to make connections between his home country of Ghana and his new home in Maine and to help others at the same time.
Jeweler Ebenezer Akakpo is always looking for ways to innovate – and donate.
From earrings and rings inscribed with Ghanaian symbols to water purifiers and drinking cups, Akakpo designs, creates and produces his wares out of his one-man workshop in Westbrook's Cumberland Mills.
He retails and wholesales his work online. The sales of a number of his products benefit nonprofits, including a clean water group and a legal organization that helps people to obtain U.S. citizenship. He's currently working on a line of water bottles to benefit Black Lives Matter.
Through his work, Akakpo, 45, attempts to make connections between his birthplace, Ghana, and his adopted home in Maine, he said.
A desire to create and to learn more the computer technology that was emerging in the 1990s, he said, took him from Ghana to Italy and eventually to Maine. He now lives in South Portland.
Akakpo recently appeared on "Elevating Voices," a TV show from Greenlight Maine and Bath Savings Bank that features business owners of color in the state.
Akakpo uses 12 Ghanaian symbols in his work. The symbols, which convey themes such as strength, endurance, spirituality and hope, are popular designs on clothing back in Ghana, Akakpo said.
"I always wanted to be an architect like my father, but one day he said that there was enough architects," Akakpo told the American Journal.
"My father explained to me years later, as an architect you are paid by the government, so when the government changes you go without pay. He didn't want that for me," he said.
"Eventually what piqued my interest was both jewelry," he said, and "how you can work it together with technology."
'Possibilities with jewelry limitless' 
In the mid-90s, he was an apprentice for a jeweler in Ghana, before entering a jewelry-making program in Florence, Italy. Eventually, he applied to the Maine Art Institute, now the Maine College of Art, based on the advice of a teacher back home in Ghana. His intent, he said, was to learn to use technology to make his jewelry designs a reality.
Jewelry as a medium allows him to use his artistic talents along with other skills, such as technical drawing, he had picked up while learning about architecture as a youth.
"It seemed the possibilities with jewelry were limitless," he said.
He work really began to take shape once he was in Maine, he said, and after he spent some time at the Rochester Institute for Technology, learning more about how to combine computer programming with jewelry-making equipment. He could now not only design is jewelry, he could produce it as well.
Former Maine College of Art teacher Kate Wolf, who now runs a jewelry making school, Kate Wolf Design, and owns the jewelry-making tool company Wolf Tools, recalls Akakpo as one of the top students she's had.
"By the second semester, he was on fire. Every project he did twice, so while other students struggled to complete each project he did it twice and did it better than everyone else," Wolf said. "He had a real drive to be an impeccable person, and has a really good eye for design."
Broader accessibility
When younger, Akakpo was interested designing and selling high-end jewelry and accessories, but as he grew older and saw how technology could change things, he took it to heart.
"What struck me was realizing that with high-end products, it really is only accessible to 10% of the world's population," he said.
He wanted to design products for those who "most people categorize as poor," he said.
He designed a water purification system to bring back to Ghana, where his neighbors had dealt with dangerous water quality, but it was too expensive for most of them.
That is where the motifs his jewelry is now known for, traditional, symmetrical line patterns from Ghana, came into play.
"I had noticed people were wearing these symbols in jewelry," he said. "What I did was I made the designs and had a company (make them) which I sold to raise money for these purifiers," Akakpo said.
Though not working on the purifier system anymore, his work, whether it is on textiles, cups, earrings or rings, still features those same patterns from his home country, and they have proven to be popular.
'A byproduct of determination' 
Wolf isn't surprised Akakpo has been able to use his skills in numerous ways to benefit those around him.
"He's expansive in what he is willing to take on, explore, decides to master. I think a lot of what he has done is a byproduct of determination and not being afraid to work hard," she said.
Each of his Ghanaian patterns emphasizes a specific mood or concept the wearer might want to emulate more or achieve, such as strength and endurance, he said. He also has noticed national trends playing a role in which of the designs are the most popular.
"It has been interesting. When Trump was elected, the most popular designs were hope and patience. Since Biden, the most common designs have been unity and peace," Akakpo said. "It is interesting how we can see how people feel based on what they buy."
Now he is working on a series of stainless steel water bottles featuring different Ghanaian patterns in support of the Black Lives Matter movement, with proceeds going to the organization.
"To me, it is still about innovating, finding ways to come up with solutions with what we have," he said.
Ebenezer Akakpo's cup series feature the Ghanaian symbol for endurance. symbols communicating endurance. Akakpo said that since the president Joe Biden took office, the most popular symbols relate to unity and endurance.
Source : Press Herald