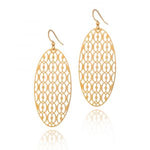 Ebenezer Akakpo's jewelry incorporates Ghanaian symbols for hope, strength and other positive traits, and some of the proceeds go to pay for water filtration systems for the poor.
At first glance, Ebenezer Akakpo's earrings and cuffs are beautifully intricate designs with finishes of rose gold, yellow gold and silver. But they have a deeper meaning.
Akakpo, a 41-year-old native of Ghana, incorporates Ghanaian symbols known as Adinkra into his work – symbols of bravery, endurance, loyalty, friendship, strength and other desirable qualities. Some of his cuffs combine the symbols, for example pairing abundance and endurance.
His most popular work often depends on what's happening in the world, or in someone's life, when a customer buys the jewelry. "That is the whole essence of my products. It's telling your own story by picking jewelry that's in line with your story. Right after the election, people gravitated toward hope," he said with a warm chuckle.
Akakpo started out as a jeweler's apprentice in Ghana, "but then I quickly got interested in making jewelry (as a career) because I thought it was cool." He studied in Florence, then in 2001 received a bachelor's of fine arts in metalsmithing and jewelry from the Maine College of Art. He also earned a master's of fine art at the Rochester Institute of Technology, where he studied industrial design.
Akakpo is a big believer in using art to solve problems, so he tries to give something back to the world with his work. He donates 70 percent of the proceeds from his Emekor Collection, a line of polycarbonate earrings 
that sell for $9.99 a pair, to fund water filtration systems that provide potable water for the rural poor – a big problem back in his own village in Ghana.
Akakpo's jewelry is available only through his website, akakpo.com, and craft shows, but that will be changing soon. He is moving his studio to Westbrook, where customers can either call for an appointment or drop by during the one day a month he plans to open to the public.
His silver- and gold-finish earrings cost $35 a pair; the cuffs are $75.
Source : Pressherald