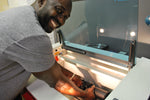 "When I think in patterns, I can do anything," says Ebenezer Akakpo as he leads two visitors through his Westbrook studio on a recent sultry night.   
This is the mantra by which Akakpo lives and it has guided his choices as he built a multi-prong career. He runs his own business, Akakpo & Co., through which he sells the jewelry, clothes, housewares, and other artwork he designs. He also works full time in the information technology (IT) department of the Maine Turnpike Authority.
The two career paths couldn't be more different to most people but, to Akakpo, the combination feels natural because each feeds his unique passions and skills. 
"We are made of different patterns; we choose to share parts of our story with certain people."  As an example, he holds up the metal tumbler from which he is drinking water. It is decorated with a mesmerizing shape, repeated again and again to form a pattern that resembles chain mail, broken only by a single word: STRENGTH. 
"I am drawn to this symbol right now," he says, flashing an infectious smile. "I have a lot going on and need fortification." 
He explains that the repeated shape is, in fact, a cultural symbol, understood in his native Ghana to mean "strength." We pick up coasters, earrings, wine tumblers, wood carvings – each featuring different symbols and look expectantly at Akakpo, who translates: "That means 'hope'. This one is 'abundance'. Ahh … you are holding bravery…"  Suddenly we are speaking a new, common language. 
These ancient symbols, called Adrinka, have been used in Ghana to convey personal and cultural characteristics, and also to represent an individual's relationship with another or with a group. "You wear to a funeral the symbol that tells the story of your relationship to the person who has passed," Akakpo says. "We are all individuals in this world, and we live in our own individual world within the global world … then there is a world created when two individuals connect – a different world but still part of this one." 
 The path of his own life is living testament to this. Growing up in southern Ghana, Akakpo envisioned – assumed, actually – that he'd be an architect like his father. But when he was ready to pursue secondary education, his father said, "You will study jewelry design. We can't all be architects. I want you to learn to see things in a different way. It will set you apart, set you on your own path." 
Even though jewelry making is looked down upon as a lowly job, Akakpo did as he was told and began learning metalsmithing, Ghanaian design, and other traditional techniques.
His father also counseled him to study abroad ("It will set you apart – you can always come home and it will enable you to do better than you ever would if you stay in Ghana!") He was told to study in Italy or the United States, so he applied to colleges in both.
He was accepted to a program in Florence. Although he was waiting for word from Maine College of Art (MECA) he took the opportunity and for a year and a half studied traditional jewelry design in Italy. 
When word came of acceptance to MECA, Akakpo decided to move to Maine. That was in 1998. Twenty-one years later, he is a U.S. citizen and a diehard Mainer.  
 "With an education, you can get everything in the U.S. But you are responsible for yourself. You have to figure out how to make it work," he says. "Americans work A LOT. As an immigrant, I have to prove myself over and over. But in return, I have been blessed with a way of seeing things differently." 
This multifaceted perspective is what led Akakpo to study computers while he was pursuing his art degree at MECA. "I had the idea that computer-aided design could revolutionize jewelry making. But the actual machines to do so didn't exist. So I also earned a degree in computer technology, at the same time I was working toward my art degree. I learned how to build computers in order to produce the art I envisioned."  
At one frustrating juncture, a mentor – Tracy Cochran – told him, "Everything happens for a reason. Free yourself and you will learn.
Limit yourself and you won't learn." Akakpo considers that to be one of the best pieces of advice he's ever received. 
"I began to see design as a tool to solve problems," he says. So he expanded his studies to industrial design. While on a site visit for a class, he learned about water purification processes. Using his skills for connecting concepts and patterns, he adapted the process and the materials to produce an affordable way for people back home in Ghana to purify their water – a huge health issue in his native country.  
Today, the pattern of Ebenezer Akakpo's life takes this shape: much of the proceeds from his art business go toward funding water purification kits in Ghana; his day job at the Maine Turnpike Authority helps fund his art business; and both jobs fuel his jewelry, home goods, and industrial design innovations.  
"I like to push the envelope beyond what is fashionable, or just useful. I like to realize the connections between ideas and people. When you tell me you like my art, I want to know why." 
Ebenezer Akakpo's art and designs are available at https://www.akakpo.com and are sold locally at Darby Jones, 502 Stevens Ave., Portland, https://darbyjones.shop/, Coffee By Design locations and Portland Dry Goods, 237 Commercial Street, Portland, https://portlanddrygoods.com/. 
By Kathleen Shannon Nichols